Torroband is a resistance band system that helps you get in shape at home.
The makers of Torroband advertise their resistance bands as a way to replace your gym from the comfort of your own home. By combining multiple Torrobands together, you can get up to 350 pounds of resistance.
Are Torrobands worth the price? Do they really work? Find out everything you need to know about Torrobands today in our review.
What is Torroband?
Torroband is a resistance band system sold exclusively online through Torroband.com. Torrobands work similar to other resistance bands: they use tension to create resistance, helping you strength train in nay setting.
Thanks to Torrobands, you can purportedly get up to 350 pounds of resistance. Just combine multiple bands together for a heavy-duty workout. Or, use one or two resistance bands for lighter-duty workouts.
Obviously, there are plenty of resistance bands available today – including Torrobands and other options. Let's take a closer look at how Torroband work to see what makes them different from competing resistance bands and why they are trending due to the rise in home workouts.
How Do Torrobands Work?
Torroband work like other resistance bands. The rubber material uses tension to create resistance. Your Torroband purchase comes with multiple resistance bands, each of which has a different strength rating.
There's a 60, 70, or 80 pound resistance band, for example, that lets you customize your workout based on your desired level of intensity.
All workout bands claim to work in a similar way, using flexible material to create resistance. However, Torroband claims to be different from competing resistance bands because it uses "triple-layer cloth with patented handles" along with a carabiner hook, allowing the system to sustain heavy levels of resistance up to 350 pounds.
In fact, the makers of Torroband claim you can add even more resistance to their system, although you might sacrifice range of movement at higher levels.
A basic Torroband package comes with three resistance bands, including:
You can use the bands individually, giving you resistance of 40, 60, or 70 pounds. Or, you can combine the resistance bands together to create 170 pounds of total resistance.
As part of a recent promotion, the makers of Torroband have launched a 3XBAND 80lb band, letting you increase the resistance even further.
You can also buy additional individual bands as needed, allowing you to customize your workout and resistance in dozens of different ways.
Torroband Features & Benefits
All resistance bands claim to offer similar features to Torrobands. So what makes Torroband different? Here are some of the features emphasized and advertised on the official Torroband website:
Patented Handles: The Torroband team claims to have "been working around the clock" to create the perfect Torroband handles. They also claim to have patented their design – something we don't see with other resistance band systems.
Durable Plastic Handle Material: While other resistance bands use cheap plastic handles with slippery foam, Torroband comes with durable plastic handles that will "never break" while still handling the highest levels of resistance without slipping. The outside plastic material also contains holes to reduce slippage even with sweat. Plus, the handles move around the cloth, giving greater flexibility and range of motion with workouts.
Workout Anywhere: Like other resistance band systems, Torroband lets you work out from anywhere. You can get fit from the comfort of your own home. You can find plenty of free resistance band workouts on YouTube, following along at home. Some people also bring resistance bands on the road while traveling, allowing them to workout from a hotel, campsite, or anywhere else you may be.
High Durability with Low Weight and Easy Portability: Torroband offers up to 350 pounds of resistance, although the bands themselves weigh less than 3 pounds, making the system easy to carry around. All purchases even come with a carrying case.
2 Year Warranty: Torroband comes with a 2 year warranty via its Torrocare policy. You can make a warranty claim for your Torrobands within 2 years of your purchase (water damage not included).
Multiple Resistance Bands and Weight Limits: Torroband comes with three weight options (40, 60, and 70) plus a bonus 80 pound option available as part of a special promotion.
What's Included with Torroband?
Your Torroband purchase comes with all of the following:
4 x Resistance Bands: You get four bands with your purchase, including 1 x 40lb, 1 x 60lb, 1 x 70lb, and 1 x80lb band.
2 x Handles: You get two handles designed to clip (via carabiner) onto either end of the resistance bands. You can strap multiple resistance bands to each handle.
1 x Carrying Bag: Carry the Torroband cable system and all accessories in the included carrying bag.
1 x Door Hook: Many people use door hooks to create new and interesting workouts. Torroband comes with 1 door hook for this purpose.
2 x Ankle Straps: Ankle straps let you customize your workout further, helping train your legs and lower body similar to how the handles train your arms and upper body.
Torroband Pricing
Torroband is priced at around $100 per set, although you can drop the price as low as $89 by ordering 2 or more sets at once. Here's how pricing breaks down: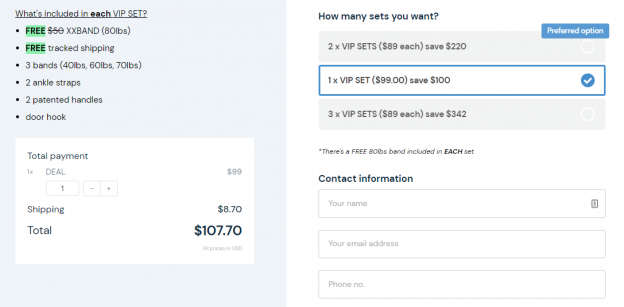 1 Set: $99
2 Sets: $178
3 Sets: $255
You can choose free shipping ($0) on checkout, and your order arrives within 12 to 21 days.
You can also choose standard shipping ($8.70), and your order arrives in 5 to 11 days.
Torroband Refund Policy
Torroband comes with a 60 day refund policy. You can request a complete refund within 60 days of receiving your Torroband package.
If your purchase is not in the original packaging, then you pay a restocking fee.
Torroband Warranty Policy
Torroband comes with a 2 year warranty policy. You can make a warranty claim for any manufacturers' defects within the first 2 years of your purchase.
This policy covers imperfections or flaws produced by a manufacturing error. It does not cover accidental drops, installation failures, normal wear and tear, and other issues.
For an extra $9, you can double your warranty period to 4 years.
Who's Behind Torroband?
The makes of Torroband provide limited information about themselves online. However, we know this is the same company that made another popular ecommerce product called Kraftgun, a popular massage gun that appeared online earlier in 2020.
The company appears to make its products in Shenzhen, China, although they have addresses in Miami and London.
You can contact the company via the following:
Email: [email protected]
Mailing Address: 15429 NE 21st Ave, North Miami Beach, FL 33162
Torroband Reviews: What Do Customers Have to Say About Torroband?
There are limited reviews for Torroband available online. As far as we can tell, Torroband just appeared online in November 2020 and few people have shared their experience with the system.
In fact, the only genuine Torroband reviews we can find online are on the Torroband.com sales page, where dozens of customers have given the product a perfect 5-star rating.
One man claims he uses the resistance bands to train soldiers in the United States military. Another person praised the resistance bands for offering no limits on range of motion.
Overall, some of the pros and cons of Torrobands, according to reviews on the official website, include:
Pros
Durable, high-quality handles and resistance bands
Four resistance bands, 2 handles, 2 leg straps, and 1 door strap included with all purchases
Customize your workout for any range, resistance, or exercise
Build muscle and burn fat from the comfort of your own home
Perfect for quarantine workouts at home
Cons
More expensive than similar resistance band systems
May be able to find better-known resistance bands online at a cheaper price
Final Word
Torroband is a resistance band system sold exclusively online through Torroband.com. The resistance band system comes with a patented handle and a patent-pending weight resistance system, giving you an effective workout from a home, a garage, a hotel room, or anywhere else.
Using the Torroband resistance bands, you can create up to 350 pounds of resistance from your own home. Your purchase comes with handles, ankle straps, and a door hook, allowing you to perform a wide range of resistance band workouts.
Overall, Torroband seems similar to other resistance bands available online today. You may be able to find similar resistance bands at a cheaper price, although if you like the idea of Torroband, the bands are available to purchase online today through Torroband.com – and they come with a 60-day refund policy.