The 20 FLOW Nitric Oxide booster supplement is formulated by sexual advisor Susan Bratton is meant to help increase blood flow circulation naturally to not only your brain and heart, but all pieces and parts of your body.
Let's review The20 brand and their new Nitric Oxide booster FLOW product to see how it works, what ingredients are found inside and if the NO2 boosting supplement is right for you.
Click Here to Check Out The 20 FLOW Supplement
What is The 20 FLOW?
The 20 FLOW is described as an organic dietary supplement that offers men and women sexual support. As consumers question their ability to maintain a high libido or sex drive arousal, their confidence levels are likely to drop, while their overall self-confidence gets hurt. For this reason, FLOW was designed, with emphasis placed on blow flow. The20, a new brand who gets its name from the Pareto Principle 80/20 rule, uses this name and motto to essentially acknowledge that most believe 80% of your results are derived from 20% of your efforts. Thus, The20, is a supplement company that wants to give you the 20% that actually works and The20 FLOW is the first product the brand is offering for men and women's sexual health.
Why is blood flow important for sexual satisfaction?
Before getting to the significance of blood flow, it is crucial to address sexual dysfunction. Sexual dysfunction consists of a set of conditions that negatively impact one's sexual life. For instance, it might be difficult for an individual to get sexually aroused during intercourse, or there might be a lot of pain.
According to existing findings, cardiovascular disease is known to disrupt one's sexual function. This is because such a condition results in damaged blood vessels, which are the ones that encourage blood flow. When there is a deficiency in blood flow, consumers neither experience adequate arousal nor do they have satisfying intercourse. This is also deemed the leading cause of erectile dysfunction. Hence, blood flow clearly plays an important role.
How does The 20 FLOW Resolve Poor Blood Flow?
The 20 FLOW approached this issue of poor blood flow by increasing nitric oxide production in cells. By doing so, the necessary molecules for blood vessel health are provided so that they can relax and expand, and increase blood flow. To make this happen, the following ingredients have been incorporated: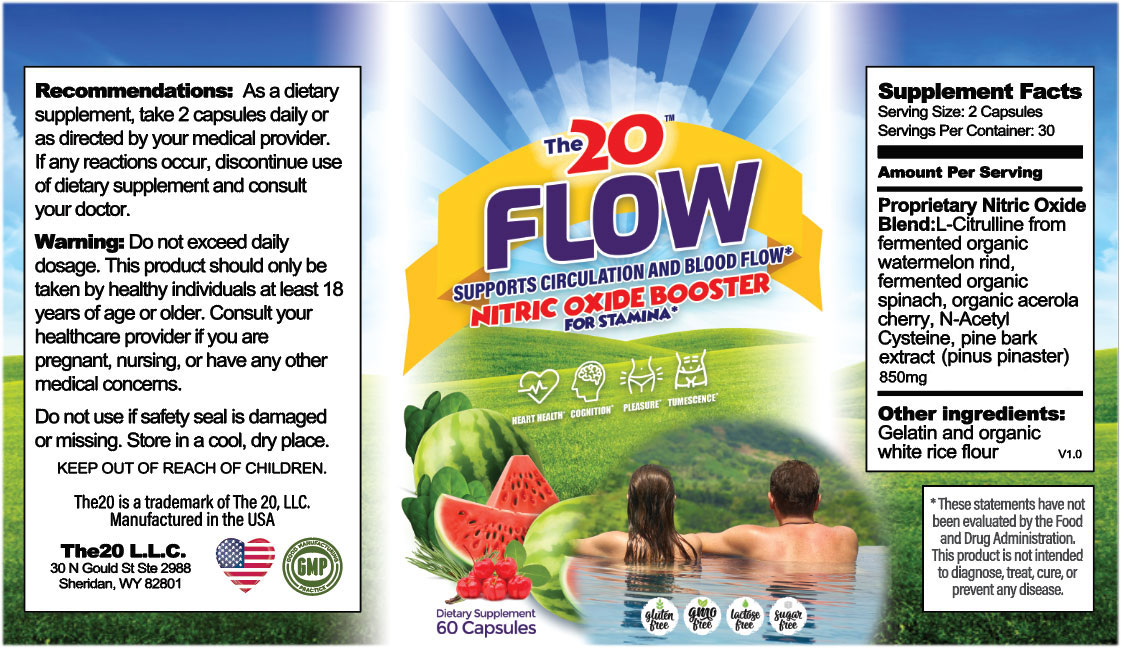 L-Citrulline (from organic watermelon rind)
L-Citrulline is a non-essential amino acid. When ingested, the kidneys change its composition into one called L-arginine and another called, nitric oxide. Hence its conversion into nitric oxide within the body is what helps increase blood flow. For daily uses, 3g to 6g are suggested.
Fermented Organic Spinach
Spinach is said to contain roughly 65 percent of one's daily folic acid requirements. It is also an ingredient rich in magnesium, which is deemed essential in stimulating blood flow and testosterone presence (dominantly in men than in women).
Organic Acerola cherry
Acerola cherry is a plant belonging to the Malpighian family. What makes it unique is its ability to reduce cholesterol levels in the blood, while increasing the overall strength of blood vessels. The latter is expected to contribute towards increased blood circulation.
N-Acetyl Cysteine
N-Acetyl Cysteine (NAC) is used in the body to help support antioxidants. This ingredient is typically in demand for those looking to repair cells from nutrients deficiency and damage. Previous studies have found that in the presence of NAC, blood flow increases.
Pine Bark Extract
Based on a study, pine bark extract was able to stimulate an increase in nitric oxide, which in turn expanded arteries to carry more blood. It turns out that this ingredient interacts with acetylcholine in order to stimulate blood flow.
The20 Nitric Oxide Booster FLOW supplement is GMO-free as well as free of gluten, lactose and sugar. The 20 nutritional supplement company also uses eco-friendly packaging made of recyclable HDPE plastic bottles.
What are the recommended doses of The 20 FLOW?
For optimal results, consumers have been encouraged to take two capsules daily or as advised by a health professional, and you should always consult your own heath care physician before beginning a new regime.
Consumers can choose between taking it either in the morning or right before sexual intercourse. Should any reactions occur, it is best to refrain from its uses. This supplement is ideal for anyone from 18 to over 40, as nitric oxide production decreases at this stage in life. Lastly, anything beyond the recommended doses can be harmful to one's health.
How much does The 20 FLOW cost?
Consumers can choose between one, three and six-month supplies. Here's a price breakdown:
One-month supply: $28.45
Three-month supply: $76.37
Six-month supply: $134.78
The 20 FLOW Final thoughts
Based on the analysis above, it is evident that a lot of thought has gone into making The 20 FLOW. By analyzing the major cause of poor blood flow, ingredients with similar traits have been hand-picked. This male enhancement supplement and women enhancement product is said to work for both because of the role nitric oxide plays in each system. In the case of women, nitric oxide lifts libido by increasing blood flow and stimulating the clitoral area, whereas for men, their genital is filled with blood, so that it becomes erect. To learn more about The 20 FLOW, visit their website today.