The Gundry MD ProPlant Complete Shake is part of the doctor-formulated ultimate protein protocol that Dr. Steven discovered about an intriguing method that fights against weight gain. Associated as a forward-facing authority figure in the natural health supplement space, Dr. Steven Gundry MD is known as a New York Times best-selling author for his acclaimed The Plant Paradox and Longevity Paradox books where he covers how eating the right protein will help weight loss efforts, while consuming the wrong protein can disrupt your well-being.
Even with an optimal diet and a stellar workout regimen, users often still struggle to get the nutrients they need to maximize their wellness and health. Supplements can be very helpful in filling the gaps that naturally occur in most diets. New advancements in the field of alternative supplemental medicine have allowed supplement companies to produce a number of exciting products that both taste great and provide users with the nutrients they need to complement and enhance their efforts towards health and wellness.
ProPlant Complete Shake by Gundry MD is a daily supplement in powder form meant to be blended and drank with nearly any kind of liquid. The organic blend of ingredients provides nourishment and essential vitamins to users, helping to balance their bodies and fill any gaps that might persist in their diets.
Gundry MD is well known for popular supplements such as, Bio Complete 3, Vital Reds, Primal Plants, Prebiothrive, and Total Restore as well as highlighting the dangers of leaky gut. The company's latest nourishing plant-based protein powder shake is already interesting consumers all over the world. Our review will cut through the hype and evaluate the potential effectiveness, dose composition and core elements of the ProPlant Complete Shake by Gundry MD.
What is ProPlant Complete Shake?
Getting the necessary daily nourishment for the body is often just a matter of eating a healthy diet, but obtaining the numerous nutrients necessary for complete wellness can be far more difficult than simple nourishment. Although a number of protein powders and shakes on the market claim to offer benefits to nutrition and overall well-being, ProPlant offers several reasons for users to try this particular product.
By taking part in a regular workout and diet regimen while using the ProPlant Complete Shake regularly, consumers may:
Improve their bone and muscle health.
Feel fewer cravings and snack less.
Improve the body's ability to burn calories.
Improve heart health.
Improve brain health.
Support a healthy and balanced mood.
Increase energy levels.
Optimize their digestion.
How It Works
The key to this formula isn't just in the essential vitamins and minerals that are present in most shakes. Instead, this remedy employs high plant-based protein and fiber content to help users get the most out of their shake with a whopping ten or more grams of protein per serving. Even better, the product "Gundry-approved" and free of health-harming lectins.
The ingredients included in just one scoop of this shake powder are:
20g protein
0.6 mg Thiamin
0.2 mg Riboflavin
4.6 mg niacin
0.3 mg vitamin B6
82 mcg folate
140 mg calcium
11 mg iron
585 mg phosphorus
420 mg magnesium
5 mg zinc
1.2 mg copper
3 mg manganese
190 mg sodium
and 600 mg potassium
Clearly, this supplement offers a wide variety of ingredients, many of which help to fill common gaps in nutrition created by average healthy diets.
To use this shake, users simply mix the desired amount of powder into their drink of choice, mix/stir thoroughly, and enjoy.
Here is a look at the full Gundry MD ProPlant Shake supplement facts: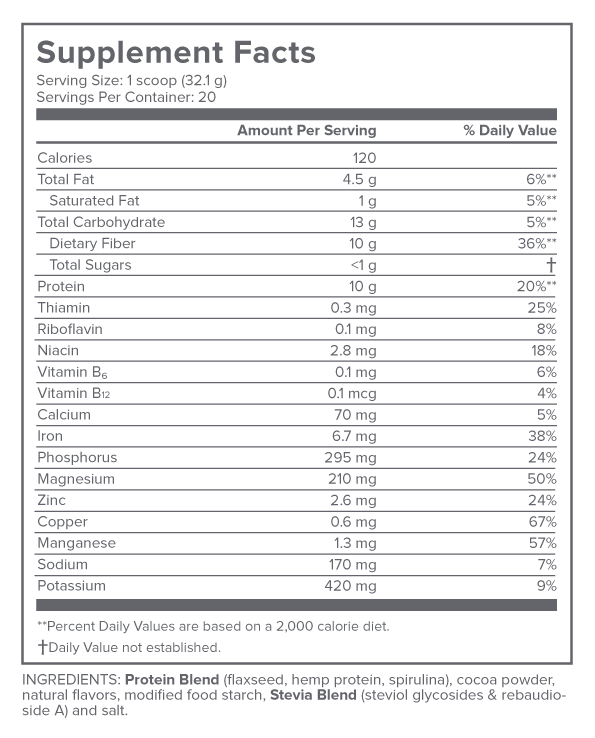 Frequently Asked Questions About ProPlant Complete Shake
This section will include answers to some of the most commonly asked questions about ProPlant Complete Shake, as well as the company behind the product.
Q: How is ProPlant Complete Shake meant to be consumed?
A: To prepare the supplement, users should mix one scoop into 8 to 12 ounces of water, though they can use coconut milk instead if they have a particular preference. Gundry MD. website states users should consume ProPlant Complete Shake once per day for the best results. Consistent use is also key; the body needs to routinely have the minerals and nutrients present in the ProPlant solution, so ceasing use can roll-back some of the major benefits offered by the shake.
Q: Who created ProPlant Complete Shake?
A: ProPlant Complete Shake is a product of Gundry MD, an established and respected supplement company which offers a number of wellness shakes, supplements, and educational products. The organization offers a transparent manufacturing process complete with scientifically-backed studies and high quality standards.
Q: Who should use ProPlant Complete Shake?
A: Nearly anyone can use this nutritional shake. The main consumers who should give this shake a try are those who need to fill some nutritional gaps created by their diet. A diet full of a wide variety of nutritional vitamins and minerals can assist with weight loss and increase energy for accompanying exercise. The ingredients are natural and tested, and formulated by the highly respected Dr. Gundry MD.
Q: What benefits does ProPlant offer users?
A: By providing users with an easy way to ingest a number of important minerals and vitamins that go neglected in most otherwise healthy diets, ProPlant can help users maximize the effectiveness of diet and exercise while approaching their weight loss goals. Additionally, the minerals found in ProPlant can increase alertness, digestive function, and more.
Q: Is ProPlant Complete Shake safe?
A: The formula is expected to be safe and effective for daily use, although consumers should always conduct independent research and speak with their healthcare provider before beginning any new supplement regimen.
Q: How long does the formula take to work?
A: Most consumers that take on this regimen can discover subtle improvements for energy levels, muscle strength, digestion, and general health within a few days. However, it can take two to three weeks to see more noticeable changes. Individual results can vary heavily based on a number of factors. If the formula doesn't work for the needs of the user, all purchases are covered by a money-back guarantee of 90 days.
Q. What ingredients are in Gundry MD ProPlant Complete Shake?
A. The ingredients included in just one scoop of this shake powder are: 20g protein, 0.6 mg Thiamin, 0.2 mg Riboflavin, 4.6 mg niacin, 0.3 mg vitamin B6, 82 mcg folate, 140 mg calcium, 11 mg iron, 585 mg phosphorus, 420 mg magnesium, 5 mg zinc, 1.2 mg copper, Manganese 3 mg, 190 mg sodium, and 600 mg potassium. The shake also comes with 70g of fat and one gram of sugar.
Any other questions or concerns can be directed to the Gundry MD customer service team, which can be reached by phone at (800) 852-0477 for
Purchasing the ProPlant Complete Shake
The best way to purchase the ProPlant Complete Shake is from the official website for Gundry MD. If users purchase the product from the official Protein Paradox website, they might take advantage of significant discounts, especially when buying multiple bottles at one time.
Presently, the Gundry MD. website offers the following prices:
One jar: $69.95
Three jars: $188.85
Six jars: $353.70
The Protein Paradox website offers these prices:
1 Jar: $49.95
3 Jars: $134.85 ($44.95 each)
4 Jars: $254.70 ($42.45 each)
All orders come with free shipping, as well as 90-day money-back guarantee. Customer support can be reached at (800) 852-0477.
Contacting the Creators: Gundry MD
The website is rich with helpful information about this product, but consumers may have other questions. The customer service team can be reached by sending an email to support@gundrymd.com.
Final Thoughts
Although users should always consult their primary physician before introducing a new supplemental product into their existing wellness routine, users have a number of reasons to be excited about this new product from Gundry MD. This fiber and protein-packed shake is filled with essential nutrients, minerals, and vitamins that would otherwise be absent from even the healthiest of diets. Through the regular use of this supplemental shake, consumers can maximize the effectiveness of their weight loss process while improving their overall wellness, alertness, and mood.
The ProPlant Complete Shake is a potent high-fiber plant protein blend that Dr. Steven Gundry MD created as a balanced formula full of plant-based ingredients that can support optimal tissue repair, regulation of appetite and metabolism of fat. The supplement has become a popular choice for many consumers looking for a natural plant-derived protein powder that they can trust through a brand as innovative as Gundry MD.